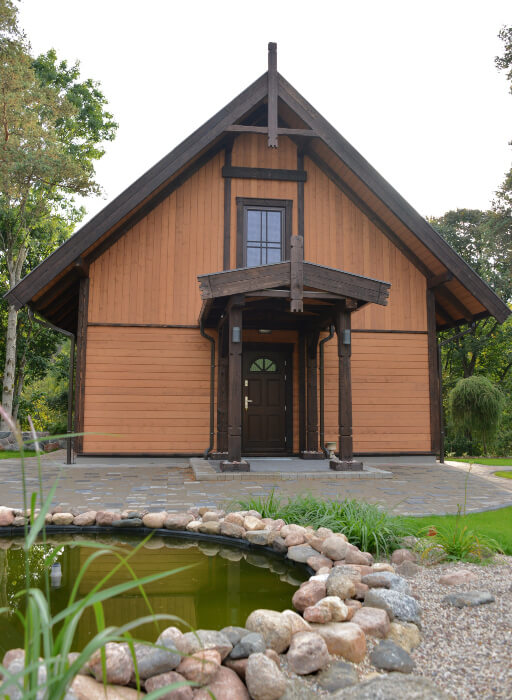 TIMBER FRAME CONSTRUCTIONS.
   The main component of a wooden building is the frame, which also includes the structure of the roof, ensures the durability of the building, as well as the appearance, proportions and one-to-one relation to the project. Heavy timber frame constructions are an ancient type of constructions, in which wood serves not only as an element of construction, but also as art.
   It is guaranteed to be a long-lasting construction with great structural strength – which is why the most wooden architecturally monumental buildings are made in this technique. Walls, ceilings and the roof structures are made of solid wood beams, the dimensions of which – 100-150mm x 150-200mm.
The "Post & beam" connections are made using traditional carpentry techniques – notches, pins, overlaps. The solid frame is supplemented with a lightweight wooden frame for the purpose of strengthening both the thermal insulation and cladding.
   Exterior walls are clad with cladding boards. We can create a base deck for both the roof and ceilings – although it is optional. The advantages of the construction are that solid wood beams form an especially strong construction and serve as a high-quality design element, is easy to apply finishes because of the fact that the structure does not "sit".
   More than 60 architectural sketch projects are available in the 3 RADI web page section  – houses, guest houses, country side houses, farm houses, holiday houses, summer houses, cottages, cabins, campers, garden houses, guest cottages, saunas, gazebos, sheds, barbecue gazebos, garages, car ports, barns, as well as other wooden structures.
   Expense estimates are sent on request for the 'Building set' and approximate total construction costs are estimated. If You find it difficult to find the ideal design or floorplan layout for You among our listed projects, feel free to reach out to us and we can create one individually.