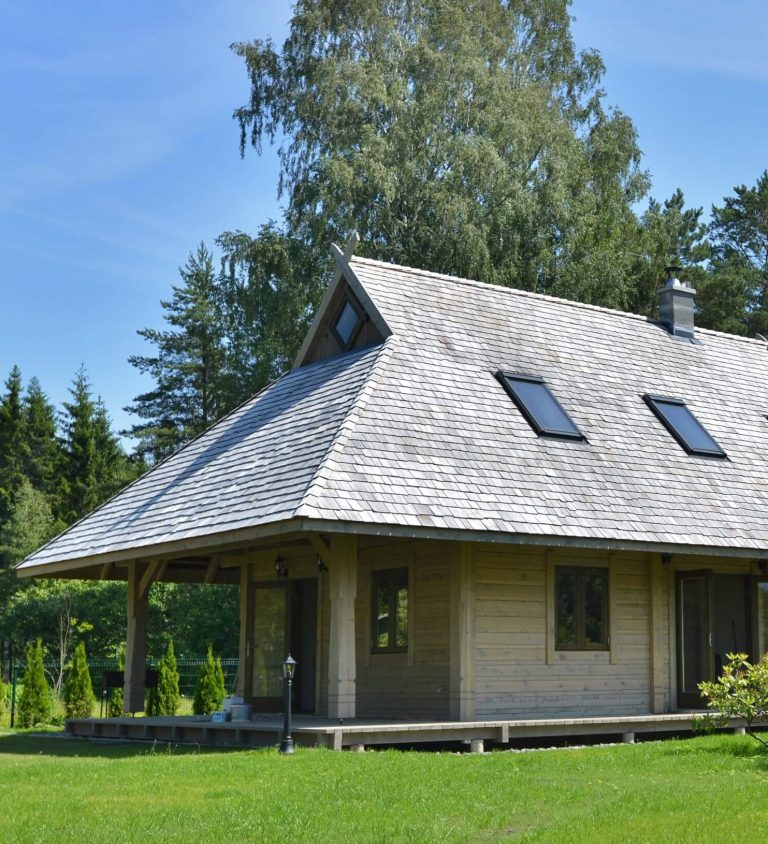 TIMBER FRAME with LOG WALLS.
   Design innovations now allow to experiment with technology as well, as any load on the structures – and wall density as well – can be precisely calculated. In result, customers have logical non-traditional questions and new ideas, which is very understandable and normal.
   But is it possible to combine both techniques – heavy timber frame and log house buildings? This has already been done – more or less – successfully in the days of our early ancestors. To answer the question – yes, combined technology buildings can and have been built, both saunas and living houses, although each of these differ from each other. Both are solid frame buildings with log filling in walls and a log thickness of 140mm.
   These specifically are summer-season buildings with a massive decorative frame, external plank cladding and a 90mm beam filling for the interior walls. It can be also a 90mm log building with an external insulation frame, insulation and external board finish – just like for a cottage, which is suitable for winter-season as well.
   In conclusion – we are continuously working on new technologies as well.
   More than 60 architectural sketch projects are available in the 3 RADI web page section  – houses, guest houses, country side houses, farm houses, holiday houses, summer houses, cottages, cabins, campers, garden houses, guest cottages, saunas, gazebos, sheds, barbecue gazebos, garages, car ports, barns, as well as other wooden structures.
   Expense estimates are sent on request for the 'Building set' and approximate total construction costs are estimated. If You find it difficult to find the ideal design or floor plan layout for You among our listed projects, feel free to reach out to us and we can create one individually.